Fair trade has priority:
We embrace social standards
As an importer of trend and decorative items from Asia, Dragimex embraces its social responsibility. That's why we are members of the initiative "sozial-fair / social-fair" of the industry association VFI (Association of Manufactured Goods Importers). We are committed to the fact that clearly defined social standards are complied with during the entire production process.
In addition, our management and the Dragimex purchasing team regularly visit our suppliers in Asia and verify the production conditions according to international standards. For most of the companies in the Far East, with whom we have cooperated for many years, a stable business relation has developed, which is a valuable basis for the observance of social agreements.
Dragimex is a member at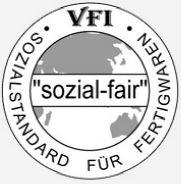 www.sozial-fair.eu